Automation Solution
Large-Scale Workshop Layout and Automation Equipment Customization Case
One of SXAE's Listed Company Customers:
Kouzijiao Wine Industry was born in 1949.
in 1959, it was designated as the wine for the banquet for the 10th anniversary of the founding of China.
It became a group company in 1997.
In 2014, it had a revenue of 2.26 billion RMB (330 million USD) and a net profit of 420 million RMB (61 million USD)
In 2006, it rated as one of the top ten influential brands in China's liquor industry.
On January 9, 2020, Hurun Research Institute released the "2019 Hurun China Top 500 Private Enterprises", and Kouzijiao ranked 229th with a market value of 32 billion RMB (4.65 billion USD)
ShenZhen SX Automation Equipment CO., Ltd designed workshop layout plan (Injection workshop connected to printing workshop) and customized large fully automatic printing plus hot stamping production lines for Kouzijiao Wine Industry: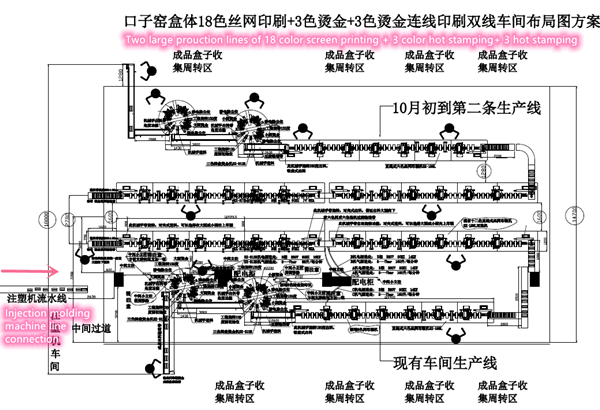 Large-Scale Workshop Layout and Automation Equipment Customization Case.pdf
The downloadable PDF file content includes the following key points:
SXAE-186 Fully automation linear 18 color printing + 3 color hot stamping + 3 color hot stamping line:
first production line was delivered in May 2019, the value 4.8 million RMB (700,000USD); the second line and the third line were delivered in November and December of the same year. Total value was 14.4 million RMB (2.1 million USD).

SXAE-616 Fully automation 6 color, 1 hot stamping with QR code detection turntable line delivered in June 2020, the value was 1.68 million RMB (250,000USD).

SXAE-518 and SXAE-518D and SXAE-312R Fully automation 6+6 color screen printing + 3 color hot stamping production line delivered in November 2020, the value was 5.4 million RMB(780,000USD).

New order for SXAE-186 18-color screen printing + 3 color hot stamping+ 3 color hot stamping line will be delivered in the second quarter of 2023.