It is designed for multi-color cylindrical/elliptical/square/plastic glass bottles, cups, hard tubes at high production speeds. It is suitable for glass and plastic containers printing with UV ink. Need registration point for multi-color cylindrical bottle printing.
Features:
Automatic 1-6 color screen printing line, each unit can be separated or connected;
Automatic loading system with belt and vacuum robot(bowl feeder and hopper optional)
Auto flame treatment;
Perfect transmission system. It passes over the bottles fast and smooth;
Automatic 180 degree rotation for oval and square bottles;
Quick and easy change over from one product to another;
LED UV curing system with longer life time and energy saving, electric UV system optional;
Reliable PLC control with touch screen display;
Automatic unloading.
the brand of main parts are Taiwan, France, Germany, USA and Japan to ensure the machine quality.
Safety operation with CE
Producing procedure:
Auto loading onto belt——flame treatment——printing——UV drying —— next color printing and drying——auto unloading
Parameters:
型号Model

SX-102-A

SX-102-A

SX-102-A

SX-102-A

SX-102-A

SX-102-A

印刷速度

Printing speed

圆形Round

3600 Pieces/hour

椭圆Oval

4200 Pieces/hour

印刷面积

Printing size

圆形Round

直径ø25-90mm, 高Height 40-260mm

椭圆Oval

宽Width 40-100mm, 高Height 40-260mm

压缩空气Compressed air pressure

5-7 Bar

煤气Fuel gas pressure

1.5 Bar

印刷色数Printing colors

1

2

3

4

5

6

功率

Power

AC 380V, 3-Phase, 50Hz/60Hz;

6.5 Kw

13 Kw

19.5 Kw

26 Kw

32.5 Kw

39 Kw

机身尺寸

Machine dimension(mm)

长Length

1900

3800

5700

7600

9500

11400

宽Width

1000

1000

1000

1000

1000

1000

高Height

1600

1600

1600

1600

1600

1600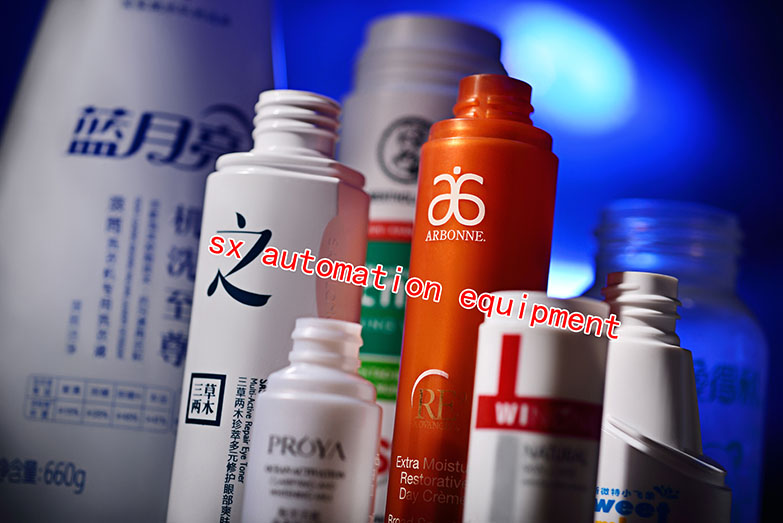 fully automatic 4 colors screen printing equipment with mechanical hands: